Purchased from Stephen Bulling, competition captain of the Bentley Driver's Club for some years, the car started life as a Mark 6 saloon. Stephen had previously built a Mark 6 Special and decided to use the lessons that he had previously learned from the earlier car to refine the speed and comfort of the new. Fitted with a 6.75 litre engine from a Bentley T2 and a well-proportioned body built by Padgetts it was exactly what Ratty was looking for as a sound basis to create one of the most powerful classic Bentleys in existence.
In the 1900's the Sultan of Brunei ordered a batch of Bentley saloons with powerful engines. The 6.75 litre twin turbo engines were developed with the help of Cosworth and for each car produced there was a spare engine. The spare engines which were all bench tested to 530bhp and 730ft/lb torque were eventually sold, one of which came to Ratty and the plan was to put it in the Steven Bulling car.
This is no simple task because some highly complex electronics are needed to extract maximum power from the engine and to make it behave in a sensible manner.
Phantom Engineering was chosen for the work because they race modern Bentleys and fully understand the complexities of the electronics and they also have a reputation for meticulous work and attention to detail.
The car has been disassembled, the chassis strengthened, all of the running gear checked, steering made more responsive and anything necessary replaced and the engine and gearbox installed. Both the engine and the gearbox have an ECU and these must be configured so that they "talk" to each other to give smooth power delivery and smooth gear changes (this is probably the only 1948 car with a diagnostic port!). The fuelling is complex and there are four radiators for water, oil, intercooler and gearbox, each one having an electric fan. To demonstrate the meticulous attention to detail by Phantom, the gearbox radiator is under the driver's foot well so they have created a vent and installed a switch that reverses the fan so that warm air is blown onto the driver's feet ("sod the passenger! ").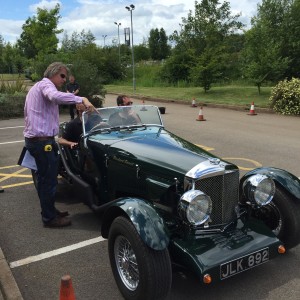 19 inch wheels have been acquired and 10 inch headlights have been fitted to give the car a more classic look. In the photograph above the car is at the 2015 Bentley Driver's Club concours at the start of the Driving Test where it came second. The 19 inch wheels have not been fitted yet because the front suspension needs to be modified