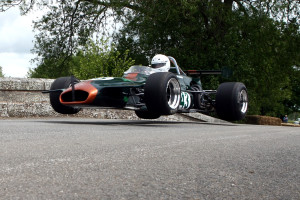 Entered by Scuderia Picchio Rosso for Enzo Corti in F2 in the first few races of 1970, and then reappeared in June, entered by either North Italian Racing or Scuderia Ala d'Oro for Tino Brambilla for the rest of the season. Returned in 1971, still entered by Scuderia Ala d'Oro for Tino Brambilla but raced once by Vittorio Brambilla ("the Monza Gorilla") at Pau in April and crashed.
In period the car raced at Barcelona, Nurburgring, Enna, Saltzburgring, Imola and Hockenheim.
After the comprehensive crash at Imola the car was fitted with a BT35 chassis in Italy and sold in 2006 to Sepp Mayer in Germany. He sold it to Bob Sellix of East Sussex around 2007 who raced it in the UK and at Rheims and who sold it to the Twirp collection in 2008.
The car is regularly Hill-climbed, mainly at Harewood and occasionally at Cholmondeley and is looked-after by Chris Fox of Fox Racing Developments of Cambridgeshire. The car has a Geoff Richardson engine and the whole car had a complete rebuild over the 2013/14 winter period to the highest standard.
The fastest time at Harewood to date is 60.5 seconds although we hold the new "Classics" class record in 2014 at 62.86 seconds.