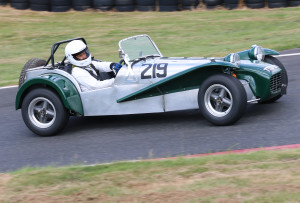 Harewood on 20 year-old tyres.
Purchased in 1969, like all Lotus' at the time this car was delivered in kit form in order to avoid purchase tax and was assembled by the owner Geoff Cook Esq of Holywell.
Six months into its life and with less than 2,000 miles on the clock the car was stolen from outside the boathouse pub in Chester and subsequently found in the Delamere Forest having been set on fire. There are very strong suspicions regarding the name of the culprit of this act but they cannot be repeated here, suffice it to say that it wasn't Mr Cook but it was almost certainly someone that he either knew or who was related to him.
There was a report on the crime in the Chester Chronicle in around mid-1970.
An insurance claim was made and a new kit was delivered and in the meantime the old car was stored in a car port. A friend of Mr Cook, Barry Walker of Rhyl eventually persuaded Mr Cook to sell the car to him in about 1972 and it went into storage until sufficient funds could be raised and time allocated to start the rebuild in the late 1980's.
It is thought that the original registration number was ADM 313 H but there is no exiting proof of this so with various letters of authenticity the registration number TTU 101 H was issued in 1996 and the first MOT certificate was issued in December 1999.
The first real outing since restoration was in summer 2000 which is when engine problems were discovered.
The original engine was a Ford 1,500 cross flow but Barry installed a Lotus Twin Cam and the problems were eventually and heroically sorted out
So we have now a 45 year-old three owner car with less than 3,000 miles on the clock.
Mole trying unsuccessfully trying to convince (Little) Owl that he has a temperature and therefore can't possibly drive the car in the Historic Lotus parade.
The car was invited to participate in a parade of Historic Lotusses (?) at Cholmondeley in 2015 and (Little) Owl was the obvious choice to drive the car at the event. However as passengers were allowed we took the opportunity to invite Baz Walker to be reunited with his much loved old car and occupy the passenger seat .
An emotional time was had by all.
                          Baz trying very hard (and failing) not to be emotional.
(Little) Owl has been driving the car on Twirp Tours and has competed at Harewood a couple of times in his first year of Hill-climbing. In 2015 he has was learning the course and how to compete on 20 year-old tyres but for the 2016 season we have some modern stickies from that nice man at Longstone Tyres.