March 13th……..Blyton.
Persuaded by the silken tongued Tip Top hero Master James Baxter Ratty entered the Nash High Speed in the VSCC track day at Blyton on 13th March.
About 40 cars of all sorts of shapes and sizes were there and the day was really well organised with good facilities and food at a respectable price. Six cars were allowed on the track at any one time which gave plenty of space for lots of serious high speed hooning. The limited number of cars meant that everyone had a huge amount of track time and some were even on the scrounge for more fuel in the afternoon.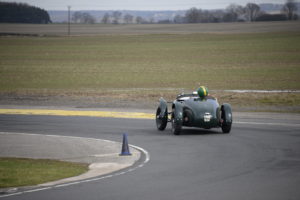 Dougal in Piglet was having a spirited day but soon retired to the shelter of a hangar where the clinking of tools and the utterance of profanities could be heard……. enter at your peril !
Nice handbag though!
Previously mentioned JB appeared at lunchtime with his precious new Gould which he promptly managed to stuff into a bit of banking that no one (not even the track owners) had previously noticed was there. The angelic JB had his wings clipped……or at least his front one that now resembles one of those really difficult jigsaw puzzles without the box to give you a clue. JB will be teaching at the Harewood academy in April and one suspects that the first bit of advice that he will be giving is "Don't stuff it on your first lap"!
Thanks to Geoff Hill who came to watch and take some photographs  and didn't stamp too hard when I took him for a coupe of laps.
March 17th-18th……Goodwood Members' Meeting.
A 'phone call from the charming Patrick Blakeney-Edwards …….."just had a call from Goodwood, a Bentley 3/8 has scratched from the Bolster cup so can I borrow yours please".
"Yes, of course Patrick but you will be careful won't you?"
The car was despatched to Buntingford for a dose of fettling and Ratty and Mole set-off for a rather dubious hotel near Petersfield. Mole, who is generally in charge of  booking accommodation and is constantly conflicted between his Natural Yorkshire prudence and the desire for a reasonable level of comfort was not entirely successful in the latter category on this occasion, the hostelry had opened half a century ago and the menu hadn't changed since then. Suffice to say that Ratty complimented him on the way in which he negotiated the inclusion of towels in the price. However, having been driven into the fleshpots of Petersfield on Saturday evening they were rewarded with a rather charming tapas restaurant……..bliss!
Saturday morning at the track was indescribably cold. Intermittent snow and a biting wind sent every brass monkey in the region into apoplexy and Ratty into the Jean Gaborit shop where he purchased a heavyweight  overcoat from the sale rail.
The Formula 5000 display saw about 30 cars on the track as it was snowing ……..an interesting sight. Some of the cars had been brought half way round the world for this event and the drivers must have wondered what they had let themselves in for.
Practice for the Bolster Cup on a wet track went well for Patrick and he got fastest lap so poll position for Sunday. The mechanics were concerned about uneven running at tick-over and all and sundry came up with "really good ideas" about what could be wrong. The conclusion was that it runs really well at speed and that's what really counts so leave it alone!
Sunday in Petersfield some 25 miles from Goodwood saw a good 3 inches of settled snow on the ground but as we drove towards the track the ground started to be visible and the snow was almost non-existent when we arrived. It was still bloody cold though! There were fire pits distributed around the catering areas which were quite effective but the viewing areas inevitably exposed spectators to sub-arctic temperatures, described by those dear things at the Met Office as "feels like minus 8 degrees".
The noticeable feature about most of the races were that everyone was trying very hard so there was a lot of kissing of door handles and a number of dramatic  spinners.
The Bolster cup Started with Patrick on poll but he was quickly out-dragged on the first lap when he was third, dropping back later to fourth. In second place was Tom Walker's 12 litre Amilcar with a Hispano Suiza engine from a Spad WW1 biplane and third was Justin Meers in his GN Parker with a 6.1 litre Cirrus aero engine. However star of the race was Tim Llewellyn in his Bentley 3/8  which had just come out of a re-build having been in the family for 60 years.
Tim stormed from 15th place to first on the first lap and stayed there for the whole race, laying down a heavy smoke-screen. His sideways exit from the chicane onto the pit straight was something to behold. Patrick had been using 4000rpm for most of the race but started using another 500 half way through and found that he was catching Justin in the GN. This could be seen from trackside. A later discussion with Neil Davies who built the engine resulted in one of those "only-if" moments; apparently the engine is good to 4500rpm and can run-on to 5000 when necessary!.
The real star of the race was the collective way the drivers showed respect for each other. No door handle kissing; I suppose that if there are no roll-over bars or seat belts there is a feeling of vulnerability not present in 1970's tin tops. Drivers were seen pointing to the side on which they could be over-taken and were clearly keeping an eye on their mirrors. With this high standard of behaviour and such an amazing variety of machines it looks as though the Bolster Cup will be a fixture for future years……….must put in an order for some new thermals.
Finally I can't help mentioning Dougal in Piglet who came a creditable 6th…. nice handbag Dougal !
VSCC Scottish Trial 14th April.
When we drive away from a VSCC trial we usually analyse our day and  kick ourselves for messing-up on a particular hill. This means that the points that we dropped on this hill put us just out of the awards. However our journey south from Coulter was relatively quiet because everything during the day had gone relatively well.
As usual the day was clear and sunny with sun-bathing at the usual long lunch time! Coulter is becoming known as the Scottish Riviera!
The usual suspects were there with an exceptional contingent of the Baxter crew with both James and Richard and assorted family members. We were trying to think of an appropriate collective noun for Baxters. It has to start with a B  and we could think of several derogatory ones but when our thoughts turned to the elegant Charlotte they seemed utterly inappropriate. We had to make do with "a bunch of Baxters" although "the Baxter Bunch" does sound a little like a group of outlaws from a 1970's western so perhaps that's what makes it so appropriate.
The 7 hills in the morning went well but with no "cleans" but he extra weight taken on board following a visit to the Mill Inn enabled us (and lots of others) to clean 4 hills and drop only 19 points between the remaining two in the afternoon.
Thoughts of glory by scraping into the awards occupied our minds in the 180 mile haul home but when we arrived back at Woodbine Cottage Mole received a message from James Tip-top Baxter saying that we had won a second class award. It made the chore of pressure washing several kilogrammes of Scottish mud off the Ford a tad more pleasurable.
The formal results arrived on the following Monday and revealed that we were 7th out of 51 entrants.
A pleasing result.
VSCC Spring Meeting: 21st April.
In contrast to sub-zero at Goodwood a few weeks earlier the temperature at Silverstone was almost sub-tropical. This is a really nice meeting with vintage/classic cars strewn all round the paddocks and a really relaxed atmosphere; the relaxation evaporating when the cars drove onto the course where there was some fierce racing.
Andrew Hall borrowed TME for the day and took it steady in practice to be placed 17th on the grid out of 36. The plan was to gain a few places and get up to 12th.
Perhaps a little too much choke at the start-up for the race led to a panic in the garage when the car wouldn't start but it eventually got under way but with a misfire at 4,800rpm. A spin at Copse on oil dropped by another competitor made Andrew's day a little more exciting and the misfire ensured that he stayed where he started in 17th place.
36 Frazer Nash on the track at the same time is quite a spectacular sight and it was a great race to watch. The important thing was that Andrew brought the car home in one piece.
In a preceding race James Baxter shot to the front in the Riley ERA and stayed there for the duration of the race with Nick Topless hanging onto his tail waiting for a mistake. The mistake didn't happen and James won a very exciting victory.
Next events.
Thursday 26th April Harewood academy.
Sunday 28th April……….. Bentley Drivers' Club AGM.
Harewood 12th May…….probably.
23rd May: an evening with Derek Bell!
26th/27th May…….The Yorkshire Tour.
Harewood Classic 2nd June……..definitely.
Team Twirp Charity Track Day at Blyton……Friday 8th June: email ratty@teamtwirp.co.uk for details; only £90 per car and only 30ish cars!
Probably a couple more Harewoods.
Silverstone Bentley Drivers' Club………Saturday 4th August ……….Blackpool Special to be driven by Stuart Worthington.
August 25th Spitfire event at Gamston.
Benjafields event in the North West………28th-29th September.